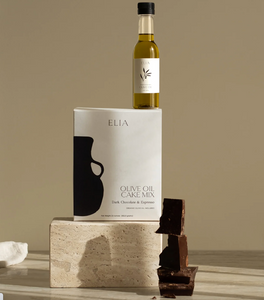 Dark Chocolate & Espresso Olive Oil Cake: The Decadent.
This simple, yet elegant olive oil cake is for that raw moment of pure indulgence. Upon first bite, the essence of fruity olive oil and espresso awaken your senses while the dark chocolate satisfies your craving, allowing you to revel in a reflective pause while savoring each of the flavors.
*Organic Greek Extra Virgin Olive Oil Included
YOU WILL NEED
2 Large Eggs
1 1/4 c (10 oz) Buttermilk
Plant-based substitutions can be found here.
DIRECTIONS
1. Preheat oven to 325 Fahrenheit degrees (160 Celsius). Using 2 tsp Olive Oil from the bottle, oil an 8" cake pan and line the bottom with parchment paper.
2. In a large mixing bowl, combine the buttermilk and eggs and whisk until smooth. Add the remaining olive oil.
3. Pour in cake mix and stir until almost smooth.
4. Pour batter into the prepared pan.
5. Bake for 28 minutes on the center rack. Rotate the pan and bake for 15 minutes (whole or plant-based milk), 22 minutes (buttermilk), or until the center of the cake is just set.
6. Let the cake cool for 10 minutes in the pan. Use a knife to release the sides then turn out onto a serving tray. Let the cake cool completely before cutting.
7. Serve as-is or lightly dust with powdered sugar.