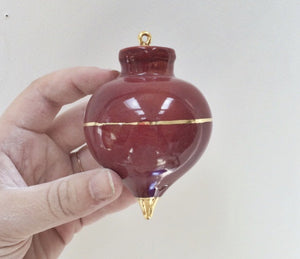 Heirloom Ornament
This heirloom-quality Christmas ornament is one piece, made entirely of porcelain. The ornament has been glazed with a glossy clear glaze to let the beauty of the porcelain shine through and then finished with hand-glazed gold details. Each ornament is handmade and slightly different from the next – no two are ever the same.

The quality materials and classic design of this Christmas ornament ensure that it will be treasured for decades to come.

Please note: Because these ornaments are made in an independent studio without the use of commercial kilns, your ornament may have three small pin-prick marks on one side. These marks are caused by handmade stilts that keep the ornaments from fusing to the kiln and we view them as happy evidence of the handmade process.