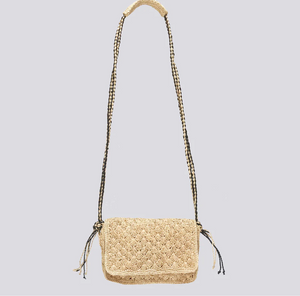 MARGOT
Margot, a raffia shoulder bag with a bicolour shoulder strap with a handle wrap. 
Color: Natural
Dimensions: 7.9" W x  5.52" H x 2" D
Length of a shoulder strap: 110cm
Handmade in Madagascar
Made of 100% natural raffia
Every bag is handmade, each product is unique.
The dimensions indicated above and the colours may slightly vary from one product to another.